If you read through the "Our Focus" section on this web site we talk about the fact that any cable from any manufacturer is an electronic filter whether you want it to be or not – that is just a fact of life. Being a filter any cable causes relative phase relationship issues for the signal. We have taken our research and development that was outlined in "Our Focus" and just tried to push the concept of a neutral filter as far as we thought it was possible to give you a highly transparent, natural and "real" presentation.
So what's different? Well compared to the Black Diamond, which was our award winning multi-product of the year cable, the Silver Diamond has even better bass definition, improved detail and a more extended top end (without any harshness) and something else which people are finding hard to define simply because they have not heard it before. As one of the first people to hear the cable said there is a "certain rightness" to the sound and that is because we have got closer to achieving our goal in cable development and signal transmission than ever before and you can hear it. Perhaps an analogy would be to talk about the Black Diamond as HD image quality whereas the Silver Diamond gives you 4K Ultra HD quality with 3D effortlessly thrown in for good measure.
This cable behaves differently to our others needing a run through of track three from our System disc to properly embed it before listening on a new system even when it is run in – almost like conditioning the system to make the most of the cable's abilities. It may sound a bit strange that a system needs to be tuned up or put in tune to get the most from this cable but the cable is something quite unique as you will hear if your get the chance to listen to a system using it.
We are very proud to have this cable finally crowning our ranges.
The latest review on the Silver Diamond (speaker cable, XLR, RCA), and what a comment to wrap it up with!
"A sound, that looking at the price level they occupy, escapes any rules and attempts at their categorization. Writing about them, that they are a class on their own"
Marcin Olszewski
Read more here: http://soundrebels.com/artykuly/recenzje/item/872-silver-diamond-english
...............................................................................................................................................................................................................................................................................................................................................................................................
"The sound I heard in the Sound Galleries room in Munich was the product of a complete system, which includes cables, and the cables in use were from Tellurium Q, a company new to me at the time. When I return from Munich, I started looking into Tellurium Q cables.

Greater clarity, a more natural presentation, a more open yet defined sound image, improved tonal qualities and, taking a few steps back, a more engaging musical experience."
Michael Lavorgna, Audio Stream
Read more at http://www.audiostream.com/content/what-difference-cable-makes#DXDzUR1CRfoJpHrJ.99
The more I listen, the more I enjoy the Silver Diamond cables from Tellurium Q.. Thanks to owner, Geoff Merrigan, we now have interconnects to cable the whole system. However, the speaker cables are magic with the Il Cremonese speakers from Sonus faber. Thanks to a 92db efficiency rating, my Pass Laboratories First Watt amp is a pretty killer combination! Always try the combination that you might not expect to be good!
Performance Profile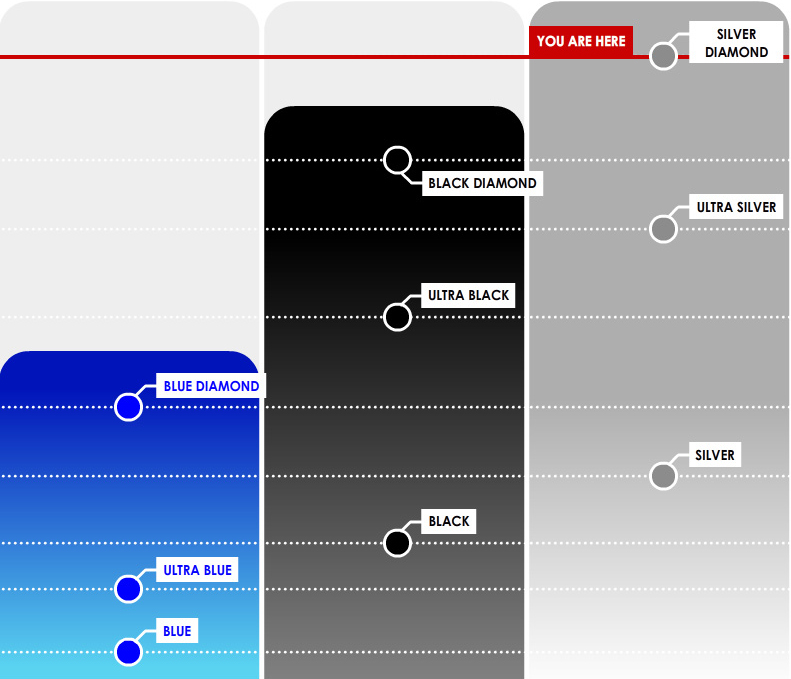 Awards





Reviews
"The added resolution, 'rightness' and musical truth they impart, while besting cables costing far more than their price point, is your reward for not needing to read specs. " - Stereo Times, Most Wanted Components Award 2015
This is Stunning!!
"If you're looking for a major jump in your system's performance, I'd suggest buying a pair of these instead of considering a hardware upgrade. Before you write this advice off to cable delusion, expectation bias, or the recent Mercury retrograde phase, please take note: I have never said this inTONE's 11-year history.
Value is a highly relative subject; cable is nearly always a hotspot and I admit to being more prejudiced against spending big money on it, yet the Tellurium Q Silver Diamond speaker cables deliver more music than anything I've yet experienced. I highly suggest auditioning them the next time you're considering spending some money on a system upgrade."
Jeff Dorgay, Tone Audio 
That quote was just the tip of the iceberg, you would not believe what else Tone Audio says:
http://www.tonepublications.com/review/tellurium-q-silver-diamond-speaker-cables/

AV Premium, 2015
"Changes mindsets....Glorious musicality incredible price" - Salvador Dangla, AV premium 2015
Hi Fi World, 2015
"The Silver Diamonds are undoubtedly their best loudspeaker cable yet. They are totally uncoloured – instead acting as a wide open channel between amplifier and 'speakers and so letting more of the music flow through to let you know exactly what the rest of the system is doing." - Hi Fi World Product of the Year Awards
Highfidelity.pl, 2015
"I couldn't detect any shifts in tonal balance – sound always seemed "normal", meaning the way I expected it to. I think that most people when comparing it with other cables will find its sound bit richer than with others, like it adds some weight to the sound. I also thought so at the beginning and spend a considerable amount of time listening to recordings where any sort of coloration would have been obvious and unwanted – I mean ones with vocals and piano. And I found out that Silver Diamond added absolutely nothing. It was all about natural richness and density of the sound, and about above average number of information delivered in bass range. It might sound "richer" than other cables simply because these others are not able to deliver comparable richness and as much information as Tellurium Q can. Not even my Tara Labs, although it comes really close." -Wojciech Pacula, HighFidelity.pl 2015
HiFi World, October 2015
"Tellurium Q have surpassed themselves here. It is often said that all cables colour the sound of a system to some extent, but the Silver Diamonds do it to a lesser extent than any other product I've heard so far. Admittedly, £800-a-metre may seem a lot to spend on a set of loudspeaker cables. But I'd say that the Silver Diamonds actually stand comparison with rivals costing significantly more, such as Nordost's Frey 2 (£1800 per metre) which – while excellent – to my ears lack some of the unforced naturalness of the Silver Diamonds." - Jon Myles, Hifi World 2015
"By the way, the silver diamond are destroying cables several times more expensive! new order soon..." - Francisco Moya, Spain
Mono & Stereo, June 2015
"Well, I have just stumbled upon a speaker cable that I`m very tempted to put in a class of its own - but I won`t because what we have here is "just" a product that raises the bar of what's achievable in this field - they`re true SOTA (state of the art) speaker cables and although they`re not cheap, they don`t cost a fortune either. In general: we should try to reserve the term SOTA only for truly outstanding products (regardless of price) and the Tellurium Q Silver Diamonds just happen to be one of them.
In my view, the Tellurium Q Silver Diamond speaker cables represent a major achievement in the realm of state of the art loudspeaker cabling. The way they manage to combine phenomenal resolution, transparency and natural tonal colours, while sounding extremely analog and coherent, top to bottom, is almost unbelievable. They sound incredibly unforced, vivid and dynamic at the same time."