Tonearm Reed 1X concept
After researching and investigating lots of tonearm designs, both available currently or made years ago, we discovered that majority of popular tonearm bearing systems are not optimal for a tonearm from mechanical and acoustical point of view. That's why we designed and built our newest Reed 1X concept tonearm with a bearing system, which differs substantially from the most of tonearms available in the market. We think that it is an optimal mechanical system that ensures flawless reproduction of vinyl record.
Reed 1X concept tonearm has a unique bearing system. From the operating principle perspective it's a gimbal system, however bearings are placed around the armwand with a 45 degree displacement from vertical/horizontal line (see Figure 1).
It is known that tonearms with traditional vertical and horizontal axes have a different movement distribution, i.e. vertical axis is employed much more (moves all the time from outer to inner edge of LP while playing a record) than horizontal one (movement occurs only if LP is warped). Also, axes experience a different load, so different types of bearings (rolling, thrust) are frequently used for vertical and horizontal axes. Due to following reasons (that does not apply to uni-pivot tonearms) there's different resistance in a tonearm movement in horizontal and vertical directions. It impacts the sound quality, especially when using modern, very sensitive cartridges. Bearings of different axis' wear-off differently as well, and that can be easily spotted in older tonearms that have been used for an extensive period of time.
All these problems can be prevented by using two identical thrust bearings, placed around armwand axis and having 45-degree displacement from a vertical (horizontal) axis. Such setup is not just very symmetrical. In this setup, moments of inertia are similar in both vertical and horizontal directions as well and its mechanics does not have any impact to the sound quality and essence.
Bearing system is explained in Figure 1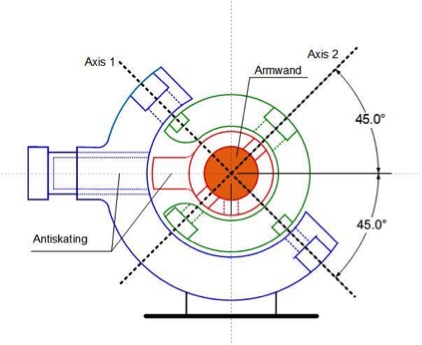 Tonearm also features:
1. 1.    Center mount, which simplifies tonearm installation on the turntable.
2. 2.    Replaceable headshell, also has azimuth, VTA (vertical tracking angle) and anti-skating adjustment possibilities.
3. 3.    Body can be chemically anodized (black, seashell white).
4. 4.    Comes either installed with a cable (copper or silver, either cryo-treated or not) that has no soldering points from a headshell to connectors. Tonearm can also have a 5-pin DIN male connector for a signal cable.
SPECIFICATIONS
| | | |
| --- | --- | --- |
| Effective length | 10.5″ | 12″ |
| Mounting distance, mm | 251.6 | 295.6 |
| Pivot to spindle distance, mm | 251.6 | 295.6 |
| Overhang, mm | 15.4 | 13.4 |
| Offset angle, deg | 20.7 | 17.6 |
| | |
| --- | --- |
| Effective mass | See details of each armwand material |