Welcome to Icon Audio (UK) Ltd. We are a small company located in Leicester UK. We are dedicated to the design and production of pure valve (or tube) amplifiers and hi fi equipment. We very much like the sound of vintage British and USA valve amplifiers like LEAK QUAD MACINTOSH DYNACO, believing that despite modern technology, the system of using valve amplifiers has much to offer in the reproduction of music.
Icon Audio is a dedicated team of audio engineers led by me David Shaw. As we have no shareholders to share our profits with our costs are low, we also have long production runs and both of these are reflected in our selling prices. You can buy through your local dealers or direct from us.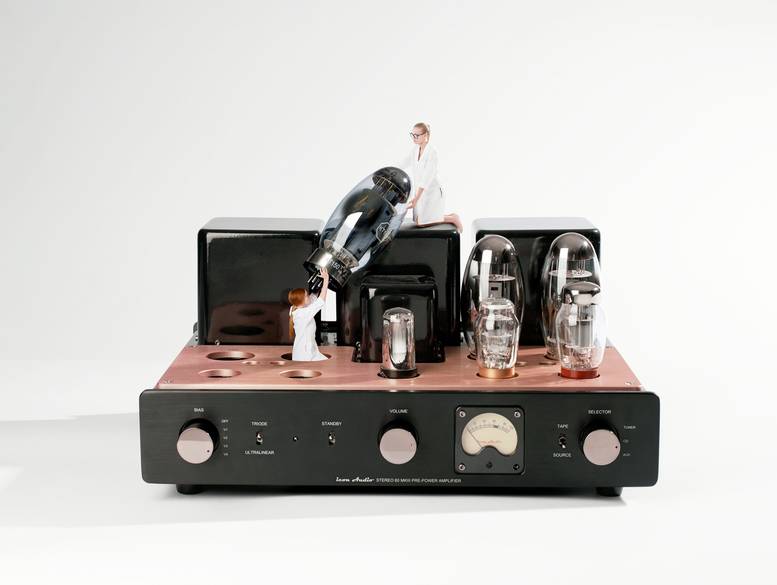 In the UK and Europe we have a reputation for offering very good value for money.
We have been designing amplifiers since 1999 in the UK. From the beginning our amplifiers were awarded "best buy" and "five stars" by British Magazines like Hi Fi News, Hi Fi Choice and Hi Fi World. And recently our MB845 mono blocks have become "Reference Standard" for Hi Fi world along with our PS1 and PS3 phono pre amplifiers.
What is special about Icon Audio Amplifiers?
We don't just want to make a quick sale. We offer full customer care support and service for the life of the product, with spares and service available for the life of the product.
Not only do our amplifiers sound good they are very well made to give a long service life. We start with the philosophy hand made amplifiers using solid materials (not plastic) will last a long time and can be easily repaired for long into the future. We only use easily available parts and valves. We do not use printed circuit boards (PCBs), although they are cheap and easy to make, they are difficult or sometimes impossible to repair. In fact it is thought that humidity can become trapped in a PCB, affecting the sound quality (Morgan Jones). So we use the old hand wired "point to point" system. You will notice that our amplifiers have generally more power than other brands. This is not necessarily to play hi fi very loud, but the new types or recording such as CD, DVD, and various TV and radio digital systems have a big "Dynamic Range" which in turn needs more powerful amplifiers to reproduce the louder "peaks" of music without distortion.
We only make "Pure Valve" amplifiers, there are no transistors or micro-chips in the audio circuit.
You can have complete confidence in Icon Audio products. After four or five years the valves in your amplifier may need replacing. Our manual tells you how to do this. We can supply replacement tubes for you, or you could return the amplifier for a service. Or just phone or email for advice. After this time with a new set of valves your amplifier will sound even better than new!
Why do Icon make so many amplifiers
Valve amplifier design covers period of roughly 80 years, during this time there has been a myriad of different valves and designs all with their own different characteristics, and the Icon Audio UK lab likes to explore these differences so that the customer can make the choice.
Valve Types
All the early valves were simple "triode" (3 elements) generally these give the best sound but in output valves are not very efficient (e.g.300B, 845, 805). Post war types are the efficient more complex "pentode" types (5 elements), these valves use less power for the same output. However the sound is generally not thought to be so good as the old triodes, so a system called:
"Ultralinear" (or UL) is commonly used which is a combination of triode and pentode, in order to get good power with the triode sound. It is also possible to use to use modern valves as "pure" triodes, with a reduction in power. Therefore most of our amplifiers are fitted with the UL/Triode switch to give you the choice of the different sound system.
Push Pull v Single Ended
Generally "Push Pull" is the favoured system for power output, using two output valves. This gives good power, low distortion and low noise. But some people favour the "Single Ended) SE method using one output valve, thinking that this has great purity despite the disadvantages. The main one being low power. Our new MB805 power amplifiers use this method to great success, using one 805 transmitter type valve, 3 years in design, we are very proud of its beautiful sound.
Icon Audio's Unbeatable Package
Top quality UK designed product
Large range to choose from
Excellent design
2 years guarantee Full back up service available
Most products are upgradable now or in future
Many excellent reviews by the British hi fi press
Prices to suit all pockets