The Spring DAC is designed and comes from Holo Audio's owned by Jeff Zhu. It's a full discrete R2R type of digital analogue converter and does not have a typical dac chip but its fully discrete core DAC design.
SPRING II DETAILS
The world's first DAC that truly supports DSD1024 and PCM1.536M
A new generation of fully discrete resistor network DAC modules with lower distortion for low level signals, and faster conversion speeds.
The USB interface uses self-developed firmware with ultra-low latency and highly reliable data transfer. The performance is 2-4 times higher than the default firmware.
Femtosecond clock
Improved I2S input interface, four independent receiving circuits, which make the I2S clock signal subject to lower interference
Improved power and analog reference power for the digital section. Superior performance, PSRR above 110db and noise below 0.2uV within 100KHz
Remote control (Only level 2 / 3)
New Matrix display includes more details on screen
LEVEL 1
(The base model is quite good all by itself and priced so competitively it's impossible to beat the performance/price ratio.) This model has basic caps for the PSU, and does not include a CNC remote. It has standard Red label 5N Copper Otype Transformer, copper wiring. Considered the base model however packs a mean punch for price per dollar performance ratio. (no remote control in this version)
LEVEL 2
(With Mundorf Evo SilverGold Oil caps for ultimate power filtration and improved sound quality – Sound quality is refined and more relaxed, transparent and details are more refined and clear while remaining neutral. ) This is a popular option for those who want a little more out of their dac with improvement of sound from the caps as well as this version will include the cnc machined aluminum remote control.
INPUTS (Digital)
USB*
RCA coaxial
BNC coaxial
AES/EBU
Toslink
I2S (LVDS HDMI)*
*USB supports Linux; MAC and Windows (7,8 10, 2012)
*HDMI LVDS Compatible with  Singxer SU-1 and Pink Faun I2S Bridge
Outputs (Analogue)
RCA single-ended
XLR balanced
Patented R2R technology. Discrete DAC that has Linear compensation and this allows for ultimate music reproduction accuracy. Separate R2R network for PCM, and  R2R for DSD.
Opamp used as input and discrete output design is applied. Fully DC coupled, no capacitors are used in signal path. Pure Class A output stages.
Spring DAC configuration options
NOS mode, without oversampling, the original data directly to the analog conversion. NOS can avoid these problems because digital oversampling can produce time-domain distortions such as ringing effects. NOS will usually have a significant impact on other performance indicators, but the spring design can make the NOS mode also maintain a good performance indicators.
OS mode, make PCM oversampling to reach a higher frequency PCM, the DSD oversampling to a higher frequency DSD, and then digital analog conversion. OS PCM mode, whether it is PCM input or DSD input, will be oversampled to PCM mode for digital analog conversion
OS DSD mode, whether PCM input or DSD input, will be oversampled to DSD mode for digital analog conversion.
Digital input interface, including, USB (ground isolation), RCA, BNC, AES, optical fiber, HDMI interface, I2S. All digital input interfaces support DSD (DOP mode). Spring analog output interface for the single-ended and balanced each group.
Sound Quality
One of the strong points of the spring is the spatial sounds stage presentation. It's very wide and precise. It never sounds congested like many DACs.
The high end is very detailed and never harsh sounding. It has the R2R goodness that many have come to know and love.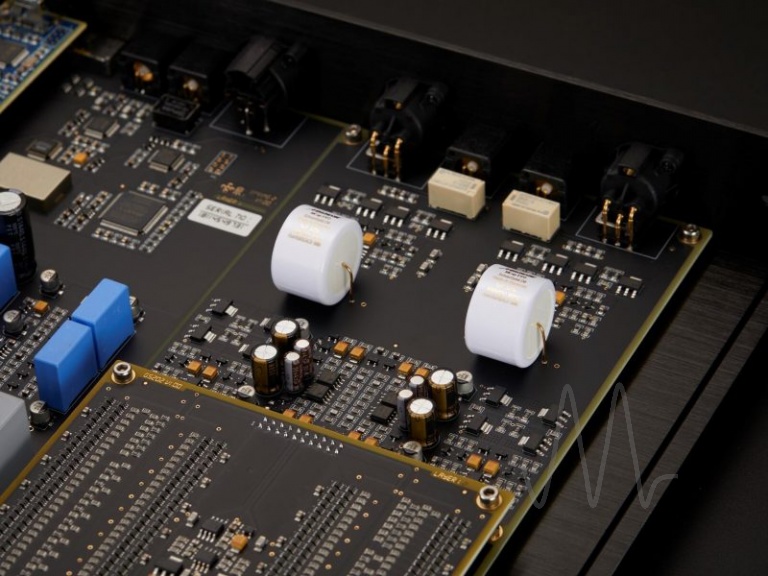 DSD is natively supported for the first time on this R2R Discrete DAC
HOLO Audio is the world's first to support DSD natively on R2R DAC, so far the only one. This is not the DSD converted to PCM before digital-analog converter, but directly by the discrete components of the DSD digital to analog converter. Supported currently on MAC (DOP)and Linux (DOP), and Windows/PC (Direct Native and DOP).
Jeff Zhu – HoloAudio Explains his patented R2R technology
There are ways to improve the performance, the segment+R2R is one way. Trimming is another way. There is an additional R2R ladder in Spring, it compensate the main R2R ladder. It works like trimming, but trimming is to change the resistor value.
This additional R2R ladder are digital controlled and is to compensate the resistor tolerance. For example, the MSB of 16 bits should have the value of 32768, but due to tolerance, it represent 32700 in real world.
Then that additional R2R ladder will compensate 68 into it. Then it became 32700+68=32768.
Actually there are other ways to improve performance, I just told you two stories. There are more stories behind the design. It is really hard. I must count every via holes in layout, every PCB wire has it's impedance and must put attention on it.
A via hole can be 50 m Ohm, it is 1/20000 of 1 kilo-ohm, and you see, it covers 32768 which is the MSB of 16bits. Also the switches has self-impedance which is about several ohms to 30 ohms. If you find this issue.
Maybe you will go crazy, it seems to be an impossible mission. But a good designer will overcome all these problems. It's our value at HOLO Audio.
All the resistor tolerance, switch impedance, line impedance, via hole impedance, finally reflect as linearity. There is a chart that shows Spring's linearity, it's excellent.
But I suggest you to look at THD performance. Bad linearity must result a bad THD performance. But good linearity doesn't mean there will be good THD performance. THD is dynamic performance, more critical than linearity which is a static performance.
If you look at the THD performance, you will find Spring to maybe the best among those competitors. I'm applying a patent which contribute a lot of that performance.
But I can't tell you how. It's confidential now.
R2R LINEAR COMPENSATION
There's an additional R2R ladder in the Spring DAC, it compensates the main R2R ladder. It works like trimming, but trimming is to change the resistor value. This additional R2R ladder is digitally controlled and will accurately compensate the resistor tolerance. For example, the MSB of 16 bits should have the value of 32768, but due to tolerance, it represents 32700 in real world results. Then that additional R2R ladder will compensate 68 into it. Thus it now becomes 32700 + 68 = 32768. What this means is that it's likely the most precise Discrete DAC on the market with near flawless linearity, lowest THD and highest SNR of any NOS DAC. The sound is simply something you must experience to fully realize how special this DAC is. It's a patented technology exclusive to Holo Audio.
An error occurred.
Try watching this video on www.youtube.com, or enable JavaScript if it is disabled in your browser.
Dimensions: 430 mm (W) * 300 mm (L) * 55 mm (H)
Weight: 8.5 kg
Power: ~230 V
WARRANTY
3 years warranty, both parts and labor, cover one way shipping (return shipping once product is confirmed a warranty claim).