But the DX is not just a full-width version of the EX with an integrated ripper. The reason the DX outperforms the EX in sound quality is that it uses dual power supplies and this improves the separation of the server function from the renderer function.
Our experience developing and refining the DX, since the first generation DX was released in 2014, has led to the new Antipodes EX and CX, and these new models offer different combinations of features and benefits, but the DX remains the ultimate one-box solution.

Digital Audio Outputs

The DX has two Ethernet ports. You can use one to connect to your network (necessary for remote control and other functions) and use the second to provide a low-noise dedicated feed to an Ethernet DAC. In this configuration you do not need any other connection from your Ethernet DAC to the network because it is able to communicate through the DX. While it is smarter than this, you can simply think of the DX as doing the same job as a high quality, linear regulated psu powered, Ethernet switch.
The DX has four USB ports - two black ports and two blue ports. All four ports receive exactly the same quality of USB signal and each is separately generated. However you may find that DAC compatibility and that sound quality are different. This is because the 5vdc feed on the USB output is different. The reason these different options are offered is to enable you to achieve the best sound quality with different DACs.
* One black USB port has no 5vdc present. This is ideal if your DAC does not need the 5vdc to be present, or if you have a dual cable, in which case, connect the digital-signal-only leg to this port.
* The other black USB port has a dedicated linear regulated 5vdc feed that is designed for use with digital signals through attention to eliminating high frequency noise. If your DAC needs the 5vdc to be present then this will provide the highest quality power feed possible.
* The blue ports provide the 5vdc feed in a way that is 100% compatible with the USB standard. The USB standard includes a communications carrier signal that is placed on top of the 5vdc feed but very few DACs require this to be present. The communications link is used so that the DAC (or other USB device) can negotiate the voltage and current it requires. Adding this high frequency signal to the 5vdc feed is not ideal as it is like adding high frequency noise to the 5vdc signal. However some DACs require this comms signal to be present. If you find that your DAC does not work on the black ports, but works on the blue ports, then this is a function of your DAC's design. If this concerns you, then we suggest you get a dual USB cable, connect the signal leg to the black 5vdc off port, and the power leg to one of the blue ports.
It is worth repeating that each of the four ports is independently derived so they do not interfere with each other, and each of them receives exactly the same quality of digital audio signal. How the presence of the 5vdc feed affects the audio quality is dependent on your USB cable and the design of the DAC. Which port you need to use for compatibility with your DAC is dependent on the design of the DAC.
OPTIONS
* Silver or Black
* Pre-Installed Storage Options
    * No Storage
    * 1TB SSD
    * 2TB SSD
    * 4TB SSD
    * 8TB SSD
HARDWARE FEATURES
* Medium Power V4X Circuit - Gen3
* Fanless All Alloy
* Internal Level 4 ODAPS Linear Power Supplies
* USB Audio 2.0 Output
    * PCM to 32bit / 768kHz PCM
    * DoP to DSD512, Native DSD to DSD512
SOFTWARE FEATURES
* Music Playback Options
    * Roon Server & Roon Ready
    * SqueezeBox & Squeezelite
    * MPD
    * DLNA/UPnP/OpenHome
    * HQPlayer NAA
    * Spotify Connect
    * SONOS Integration
    * Plex Media Server
* Admin Applications
    * Find My Antipodes
    * CD-Import Auto-Ripper
    * Playback App Switcher
    * External Drive Mounter
    * Browser-Based Setup GUI
    * SMB Server For File Management & Downloads
POWER
* Less Than 25W While Running
* 110-120VAC or 220-240VAC Set At Factory
DIMENSIONS
* 432mm (w) x 273mm (d) x 85mm (h)
* 17in (w) x 10.7in (d) x 3.3in (h)
WARRANTY
* 24 Months Return To Vendor
* Extendable To 36 Months By Online Registration
Price 6350e (no storage)
7350e 1TB SSD
8350e 2TB SSD
10350e 4TB SSD
14350e 8TB SSD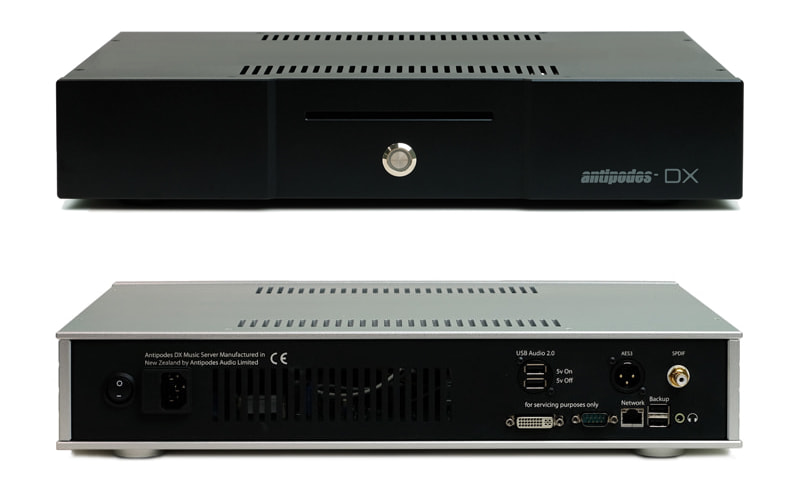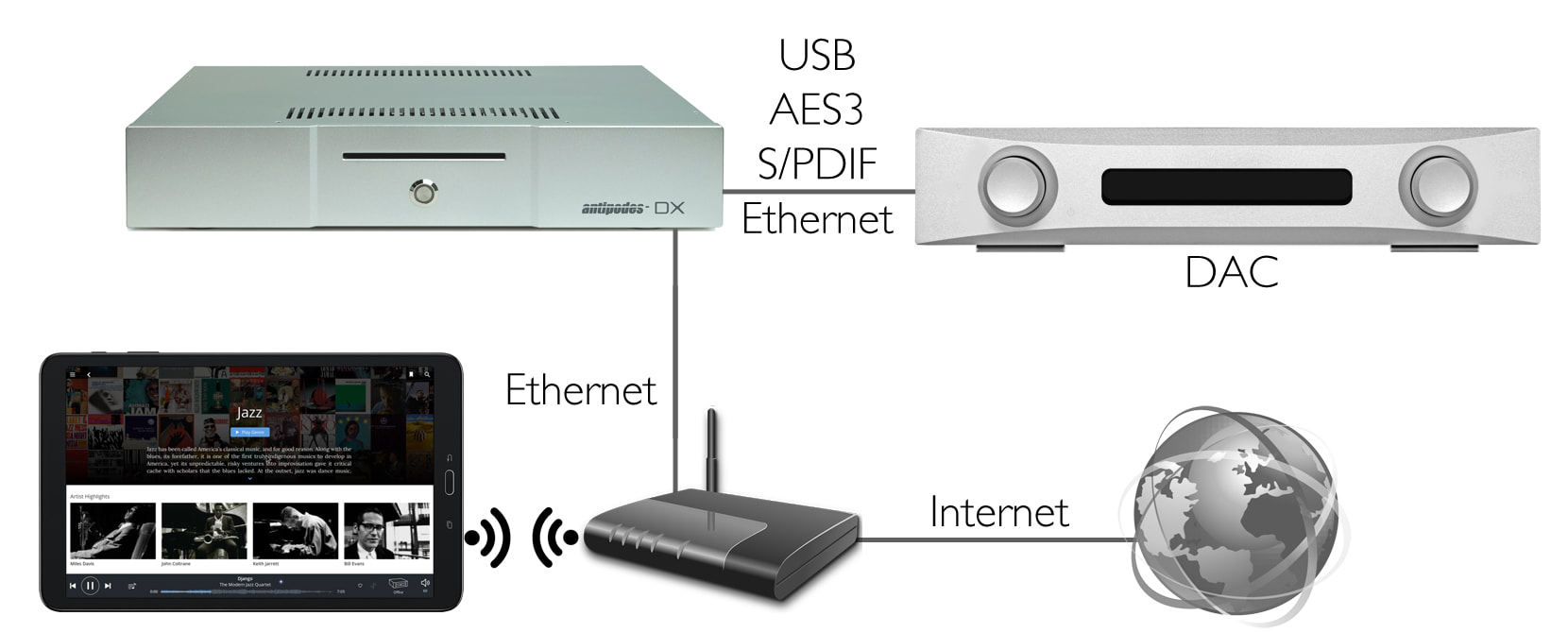 DX SPECIFICATIONS
COLOUR OPTIONS
All Silver
All Black
RIPPER
Auto-rips CDs
Retrieves Metadata from Leading Open Internet Repositories
Rips to Uncompressed FLAC
SERVER APPLICATIONS
Roon Server
SqueezeBox Server
MPD
DLNA Server
BubbleUPnP
Minimserver
SONOS Integration
Plex Media Server
RENDERER APPLICATIONS
Roon Ready
Squeezelite
MPD (DLNA Renderer)
HQPlayer NAA
Shairport (Apple Airport Emulation)
NETWORK
Gigabit Ethernet
USB OUTPUT
USB Audio 2.0 Compliant & Supports:
- PCM to 32bit / 768kHz PCM (See Note 1 Below)
- DoP to DSD512, Native DSD to DSD512 (See Note 2 Below)
S/PDIF OUTPUT
Plays PCM to 24bit 192kHz
Bit Perfect Rates 44.1, 48, 96, 192kHz
Auto Transcoding 88.2 to 96, 176.4 to 196kHz, DSD to PCM
PROCESSOR CORE
Quad Core Celeron - 8GB RAM
SYSTEM STORAGE
Solid State Storage For Operating System, Application Software, Caching & Library Database
MUSIC FILE STORAGE
1TB, 2TB, 4TB, 8TB or 12TB Solid State Storage
CASE MATERIAL
All Aluminium Alloy
COOLING
Fanless Passive Cooling
POWER CONSUMPTION
Less than 25W while running
POWER SUPPLY
Internal Dedicated ODAPS-Topology Linear Power Supplies For All Stages
110-120VAC or 220-240VAC - Voltage is set at the factory and is not switchable
DX DIMENSIONS
432mm (w) x 273mm (d) x 85mm (h)
17in (w) x 10.7in (d) x 3.3in (h)
SHIPPING WEIGHT
Approx 10kg (22lbs) - Varies With Storage
WARRANTY 24 Months, Extended to 36 Months with Product Registration via Website
NOTES 1. The USB Audio Output is 100% compliant with the USB Audio 2.0 standard. Check your DAC's compliance with its manufacturer.
2. DoP and Native DSD are not fully specified standards. Some DACs claiming to work with DoP and/or Native DSD may not work.