With almost any DAC you will experience sound that is organic and tonally rich with natural timbres, and yet with no lack of resolution, speed and dynamics. It turns out that the source is critical in computer audio too.
The Antipodes DX integrated digital source provides auto-ripping, server and renderer/endpoint functionality combined in a single device for the ultimate in audio performance, simplicity and ease of use.
See DESIGN for more details on the design philosophy used in Antipodes digital sources.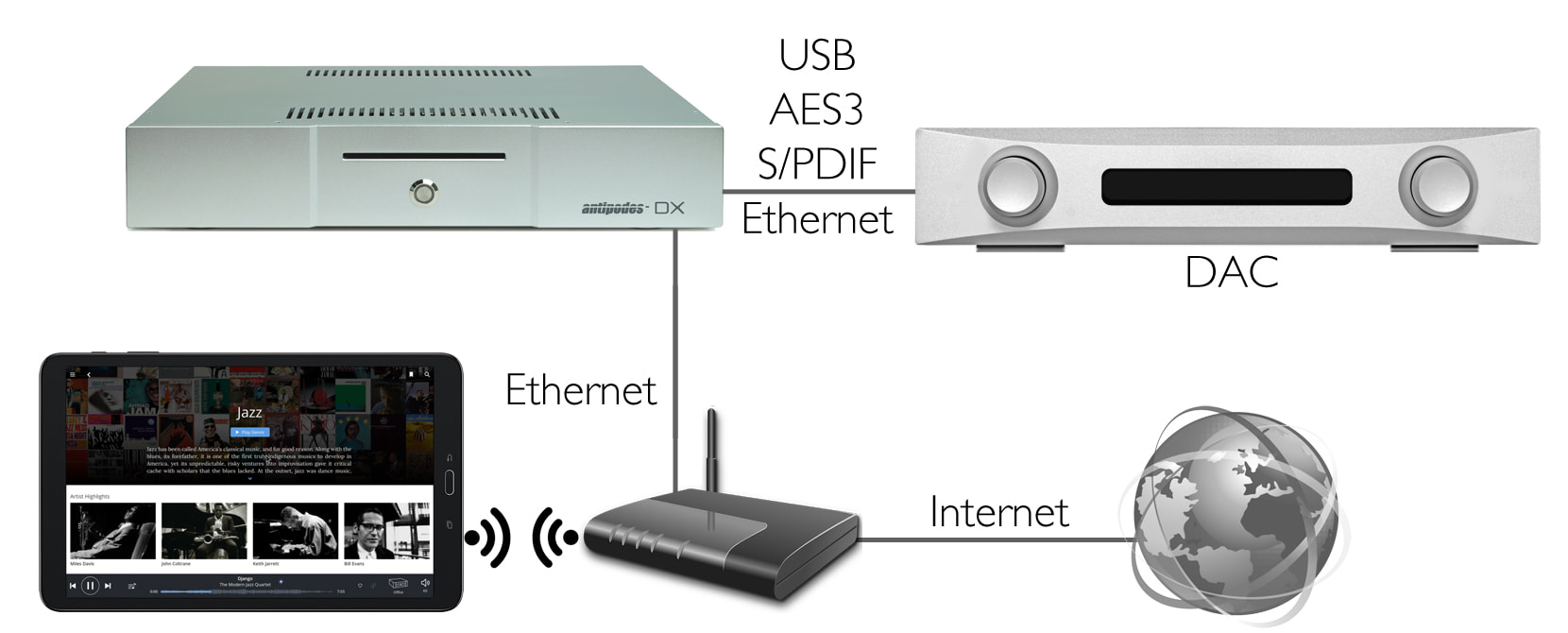 DX SPECIFICATIONS
COLOUR OPTIONS
All Silver
All Black
RIPPER
Auto-rips CDs
Retrieves Metadata from Leading Open Internet Repositories
Rips to Uncompressed FLAC
SERVER APPLICATIONS
Roon Server
SqueezeBox Server
MPD
DLNA Server
BubbleUPnP
Minimserver
SONOS Integration
Plex Media Server
RENDERER APPLICATIONS
Roon Ready
Squeezelite
MPD (DLNA Renderer)
HQPlayer NAA
Shairport (Apple Airport Emulation)
NETWORK
Gigabit Ethernet
USB OUTPUT
USB Audio 2.0 Compliant & Supports:
- PCM to 32bit / 768kHz PCM (See Note 1 Below)
- DoP to DSD512, Native DSD to DSD512 (See Note 2 Below)
S/PDIF OUTPUT
Plays PCM to 24bit 192kHz
Bit Perfect Rates 44.1, 48, 96, 192kHz
Auto Transcoding 88.2 to 96, 176.4 to 196kHz, DSD to PCM
PROCESSOR CORE
Quad Core Celeron - 8GB RAM
SYSTEM STORAGE
Solid State Storage For Operating System, Application Software, Caching & Library Database
MUSIC FILE STORAGE
1TB, 2TB, 4TB, 8TB or 12TB Solid State Storage
CASE MATERIAL
All Aluminium Alloy
COOLING
Fanless Passive Cooling
POWER CONSUMPTION
Less than 25W while running
POWER SUPPLY
Internal Dedicated ODAPS-Topology Linear Power Supplies For All Stages
110-120VAC or 220-240VAC - Voltage is set at the factory and is not switchable
DX DIMENSIONS
432mm (w) x 273mm (d) x 85mm (h)
17in (w) x 10.7in (d) x 3.3in (h)
SHIPPING WEIGHT
Approx 10kg (22lbs) - Varies With Storage
WARRANTY 24 Months, Extended to 36 Months with Product Registration via Website
NOTES 1. The USB Audio Output is 100% compliant with the USB Audio 2.0 standard. Check your DAC's compliance with its manufacturer.
2. DoP and Native DSD are not fully specified standards. Some DACs claiming to work with DoP and/or Native DSD may not work.